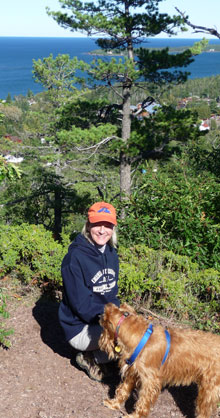 My name is Aimée Bissonette and I am the author of ten picture books, fiction and nonfiction:
North Woods Girl, Minnesota Historical Society Press, October 2015
Miss Colfax's Light, Sleeping Bear Press, March 2016
Aim for the Skies: Jerrie Mock and Joan Merriam Smith Complete Amelia Earhart's Quest, Sleeping Bear Press, September, 2018
Do Not Rake Your Garden in a Party Dress, Cameron Kids, March 2020
The Tinaja Tonight, Albert Whitman, September 2020
Dragonfly, Albert Whitman, September 2020
When Winter Comes, Little Bigfoot / Sasquatch Books, October 2020
Headstrong Hallie: The Story of Hallie Morse Daggett, the First Female "Fire Guard," Sleeping Bear Press, February 2021
Shipwreck Reefs, Albert Whitman, September 2021
The Second Life of Trees, Albert Whitman, September 2021
I am lucky to have worn many hats in my life. (My daughters tease that I still don't know what I want to be when I grow up!) I have been an occupational therapist, teacher, writer, lawyer, and small business owner. My favorite work—other than writing—is as a lawyer, helping other authors and illustrators get their books published.
I have always loved the outdoors and I find inspiration in the north woods, on the shores of Lake Superior, hiking in the mountains, and walking long stretches of sandy beach. I escape to the outdoors to write, think, and take photos. I also draw on my interpersonal relationships and stories of strong women from throughout history when I write. One of my favorite things to do is travel. Exploring new places and cultures, seeing new sights, meeting people, and eating foods I've never eaten before is such fun!
My family moved many, many times while I was growing up, so I've lived in a lot of places. My home now is in Minnesota, where I live with a rambunctious Irish Terrier named Guinness. Our house is in a nearly constant state of chaos, thanks to my two adult daughters, their pets, my granddaughter, our extended family and our friends. Honestly, I wouldn't have it any other way.
Lastly, in honor of Luca Calanni, a smart and caring kid, here are some wise words I try to live by: "In a world where you can be anything, be kind."
Thank you for visiting my website.