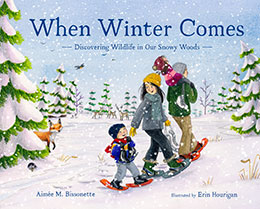 Discovering Wildlife in Our Snowy Woods
written by Aimée Bissonette
illustrated by Erin Hourigan
Little Bigfoot / Sasquatch Books, October 2020
ISBN 978-1-63217-273-0
Though a forest may be blanketed in snow or a lake frozen over, families who enjoy the outdoors in winter, happily bundled up to play in the energizing weather, know that wildlife is still teeming there.

When winter comes,
and deep snow blankets the woods,
and ice forms cold and smooth on the lakes,
thick enough for us to skate on,
some people think our woods are empty.
But we know better.

The fallen log that is used to hide behind in a snowball fight is a shelter for tree frogs, caterpillars, ladybugs, and slugs. The drifts of fallen snow that families snowshoe across have winding tunnels made by meadow mice in search of seeds and bark. The towering trees families ski among shield birds from winter winds.

When Winter Comes celebrates the joy of playing and exploring in the outdoors during the winter months.

Erin Hourigan is an author/illustrator in Portland, Oregon. She grew up in Southern California playing in the waves and dreaming up stories everywhere she went. She studied illustration at Cal State Fullerton before moving to Oregon, where she has learned to trade the waves for pine trees and rivers. She loves to travel and whether she's out on a hike, or people watching in a coffee shop, you will almost always find her with a sketchpad and pencil in hand. Learn more about Erin.
Amazon Editor's Top Pick, October, for Children Up to Age 2 (board book)
"When winter comes… some people think our woods are empty. But we know better." This lyrical, informative tale features a family of four spending time in the snow while pointing out the surrounding fauna's wintertime activities. Bissonette's prose sparkles even as she imparts factual information: "We know/ the windswept drifts we snowshoe across/ cover tangles of tunnels below the snow…// made by meadow mice/ in search of seeds/ and bark." In detailed cutaways, Hourigan emphasizes the delight of the frolicking family as they lob snowballs, snowshoe, and ice-fish, while balancing the close proximity and contrasting experiences of the animals, who hibernate and hunt, swim and wander. A familial picture book that expertly depicts wintry human behaviors alongside those of the natural world—one that is "very much alive" in winter. (Publishers Weekly, starred review)
"As one intrepid human family goes to the woods to play on a snowy day, readers are privy to all the ingenious and hidden shelters that animals create during the harsh, cold months. The family, whose members are white, ducks behind a fallen log during a playful snowball fight, where readers see a group of tree frogs sheltering within. When they snowshoe through the woods, intricate tunnels are shown below them, made by mice who are looking for seeds and bark. The frozen lake, where they ice fish, is actually hosting a "slushy slumber party of sleepily swimming rainbow trout." Though it may look as if the woods are empty in winter, Bissonette (North Woods Girl) creatively displays how they are not. Hourigan's joyful illustrations will encourage children to take a closer look at the world around them. VERDICT A wonderful purchase to add to collections on nature and the seasons." (School Library Journal)
"When winter comes, two children and their parents revel in snowy, outdoor activities. Whether ice skating or sledding, they know that animals are nearby, sometimes seen, but often hidden, recognized only through pawprints in the snow or howls in the night. Crouching behind a hollow log during a snowball fight, the family is aware that tree frogs, caterpillars, and lady bugs may be sheltering inside it. While ice fishing, they imagine the trout swimming and the turtles resting in the cold lake below. Some folks might think the woods are empty, but "we know we share this wild and wonderful wintry world." Bissonette's words create a vivid sense of the family's joy in the natural world and kinship with the other creatures living in the woodlands. Using color and curving lines effectively, Hourigan's inviting double-page scenes focus on the people and their surroundings. Through intriguing cutaway scenes, many illustrations also reveal the animals scurrying about or resting underground and beneath the snow and ice. This lively picture book offers a fresh perspective on the animals-in-winter theme." (Booklist)