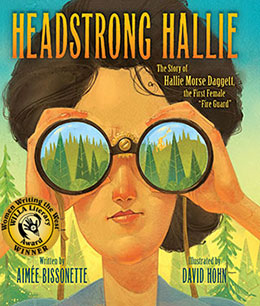 The Story of Hallie Morse Daggett, the First Female "Fire Guard"
written by Aimée Bissonette
illustrated by David Hohn
Sleeping Bear Press, February 2021
ISBN 978-1-53411-0618
Hallie Morse Daggett loved spending time outdoors, hiking among the tall trees of the forests in California's Siskiyou Mountains. She wasn't afraid of the bears, coyotes, and wildcats. But Hallie was afraid of fire and understood the threat it posed to the forests, wildlife, and people. And more than anything, she wanted to devote her life to protecting her beloved outdoors; she decided she would work for the US Forest Service. But in the 1880s the Forest Service didn't hire women, thinking they couldn't handle the physical challenges of the work or the isolation. But the Forest Service didn't know Hallie or how determined she could be. This picture-book biography tells the story of Hallie Morse Daggett, the first woman "fire guard" hired by the US Forest Service, whose hard work and dedication led the way for other women to join the Forest Service.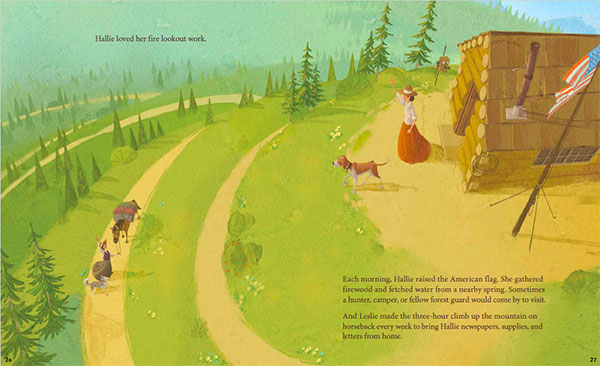 David Hohn is an illustrator based in Portland Oregon. His days are spent in the studio imagining what it would be like to be someone else, doing something else—and then he paints it. Learn more about David.
Crystal Kite Midwest Member Choice Awards
Grand Canyon Reader Award nominee 2024, Nonfiction
Utah Beehive Award for Children's Informational Books nominee 2024
WILLA Literary Award Winner in Children's Fiction & Nonfiction from Women Writing the West 2022
Creative Classroom Project
Educator Kaleen Tison Povis wrote: "I built a class project around your book, Headstrong Hallie, to help scaffold our inquiry and research skill development. During this project, each student studied one topic mentioned in your story in more depth (ex. animal response to fire, women's clothing at the turn of the 20th century). Their projects were submitted as digital presentations, which I turned into QR codes and pasted in a copy of your book for my fireguard friend, at a fire tower in Eastern Oregon, to enjoy alongside your writing and David Hohn's illustrations. It was a great way to have individual assignments pool into something larger and more meaningful."
"Growing up roaming the forests of California's Siskiyou Mountains, the only thing Hallie Morse Daggett fears is fire. She's seen it devastate the forests, and it's come terrifyingly close to her own home, and she brings food to the men of the U.S. Forest Service whenever they fight fires nearby. When she grows up she applies to work for them—again and again, always to be told they don't hire women. But when, in 1913, a fire-lookout position opens up right before fire season begins and Daggett, now 30, again applies, the Forest Service finally says yes. The men take bets that she won't last in the tiny, isolated cabin she's assigned, but of course she does, spotting 40fires in her first season. When, 14years later, the wee cabin is replaced by a much fancier installation, Daggett retires after only one season in it, a decision framed by Bissonette in her admiring, economically engaging narration as prompted by her distaste for frippery. In her author's note, Bissonette describes the paucity of the historical record and fills in the scant details of Daggett's life following her retirement. (Kirkus Reviews)
Hallie Morse Daggett, a white woman who grew up near California's Siskiyou Mountains in the early 20th century, was acutely aware of the danger that wildfires posed to her family and her beloved wilderness. After finishing school, Daggett was determined to work for the U.S. Forest Service, but faced disdain, dismissal, and a pile of rejection letters because of her gender. Daggett knew she was the right person for the job, so she carved a space for herself in a male-dominated field. In 1913, she was finally hired. Though her male peers doubted her ability, Daggett excelled at her work and thrived at the remote Eddy Gulch outlook station. She spotted 40 fires in her first season. Hohn's detailed, expressive illustrations burst with action and color, bringing Daggett and her surroundings to life. Daggett's story is told in a narrative style, with short paragraphs that complement Hohn's illustrated spreads. Throughout, Daggett's self-confidence never wavers, even when she is repeatedly told she is not capable of accomplishing what a man can do. Back matter includes an author's note with several photos and more information on Daggett's life. VERDICT A picture book biography with luminous illustrations that are just as powerful as the empowering story of a young woman who refused to take "no" for an answer. Recommended. (School Library Journal, Allison Staley, Lake Oswego PL, OR)
Hallie Morse Daggett dreamed of joining the US Forest Service to fight fires in California's Siskiyou Mountains–an unheard-of goal for a woman at the turn of the previous century. But Hallie persisted and was finally hired as a fire lookout in 1913. She spent fifteen fire seasons in a primitive mountain cabin reporting on smoke and flames, contending with fierce electrical storms, and fending off wild animals. Bissonette's engaging portrayal of a self-assured and determined figure is enhanced by Hohn's imaginative illustrations. An author's note provides more detail and includes three black-and-white archival photos. (The Horn Book Guide, Kitty Flynn)