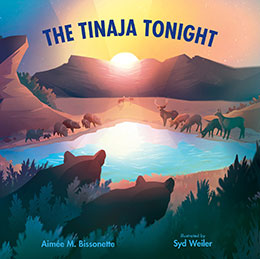 written by Aimée Bissonette
illustrated by Syd Weiler
Albert Whitman & Co., September 2020
ISBN 978-0807579497, ages 4 and up
Dry. Dusty. Hot. Suddenly, the water comes; then so do the animals—javelina and jackrabbits, coyotes, and mountain lions. They warily share the watering hole. Strong graphic art and rhythmic text packed with interesting facts to capture imaginations.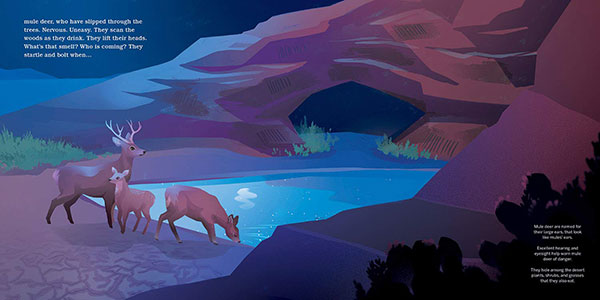 American Library Association Amelia Bloomer List
International Literacy Association Primary Nonfiction Award 2017
Southwest Books of the Year 2021, Pima County Public Libary
"Who should buy this book? Public and elementary school libraries, anyone who works with children over the age of four. This would be a great addition to a science classroom–there is a lot of information about both the desert and desert animals. … This book is perfect for children over the age of four years old, especially if it is a child who enjoys animals." (Kristin Guay, Youth Services Book Reviews, starred review)
"Bissonette's poetic narrative, sprinkled with alliteration, leads readers seamlessly from one desert denizen to another…Clarifying information bites regarding each featured element or animal accompanies the text…this exploration of water's vital presence in an arid environment is sure to please." (Kirkus Reviews)
"Bissonette crafts a factual, engaging narrative in this nonfiction picture book about tinajas. Tinajas, which are found in deserts, are "formed by a natural hollow in the rock where rainwater or melting snow collects." Factual information is featured throughout the narrative. Readers get a well-developed introduction to the desert and its inhabitants, and the author's note and resources provide additional information. Weiler's illustrations are reminiscent of lithograph-style vintage posters from the last century, and the soft layers and sunset palette used throughout the book lend an ethereal quality to each page. This book could be a good read-aloud and would work just as well at bedtime as in the classroom. The text has a gentle flow, and the illustrations capture the purples and blues of twilight. VERDICT Purchase this title, which is also an appealing read-aloud, for collections focusing on ecosystems and environmental science." (School Library Journal)