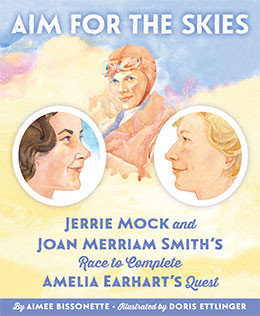 written by Aimée Bissonette
illustrated by Doris Ettlinger
Sleeping Bear Press
ISBN 978-1-58536-381-0
Jerrie Mock and Joan Merriam Smith's
Race to Complete Amelia Earhart's Quest
When she was seven years old, Geraldine (Jerrie) Mock took her first airplane ride. She decided then and there to be a pilot. Growing up, she was inspired by radio broadcasts detailing the travels of aviatrix Amelia Earhart.
Joan Merriam was 15 when she took her first plane ride in 1952. She got her pilot's license before she could even drive a car. And like Jerrie, Joan too was inspired by Earhart and wanted to circle the globe, following Earhart's exact route.
Years later, when both women begin to plan their dream flights, they are completely unaware of each other, and coincidentally pick the same time to depart. But when the media gets word of their plans, the stage is set for the race of a lifetime. This picture book retells the extraordinary story of the 1964 air race between Americans Geraldine Mock and Joan Merriam Smith, the first two women to fly around the world.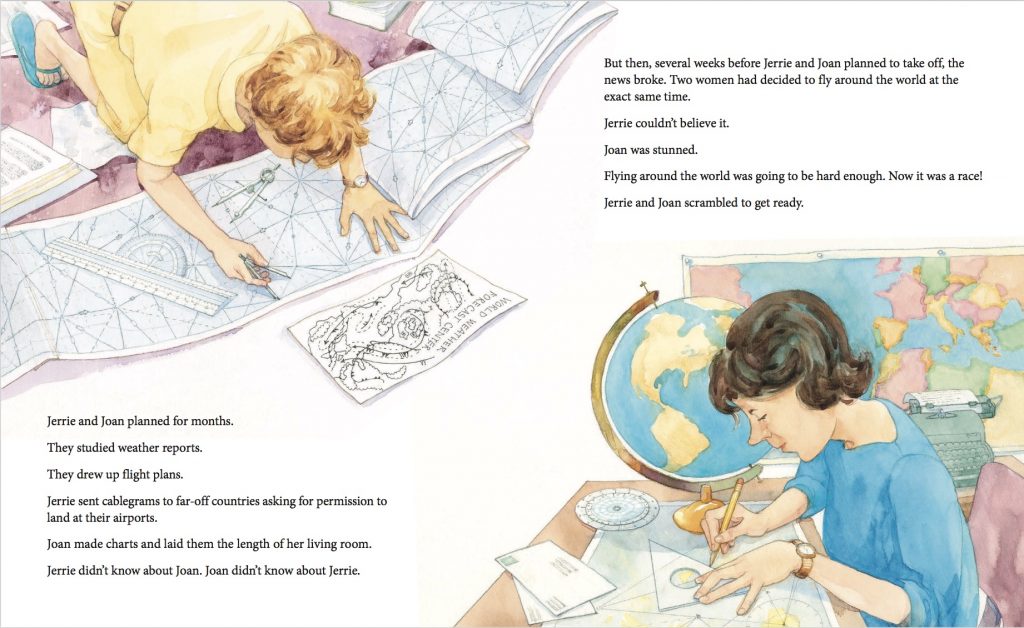 Doris Ettlinger has illustrated 40 plus picture books! She has been an illustrator since graduating from the Rhode Island School of Design. She received an MFA from the University of Wisconsin–Madison. Her work features fine draftsmanship and a masterful use of watercolor. Doris teaches watercolor workshops, is a member of SCBWI, the Hunterdon Watercolor Society, and a signature member of the Garden State Watercolor Society. Learn more about Doris.
A Mighty Girl Best of 2018 Book
Smithsonian Air & Space Magazine, Best Children's Books of 2018
"The straightforward narrative highlights the passion and determination of these two unknown women, who broke barriers and achieved their dreams. Tidbits, such as the fact that each had a good-luck charm, add human interest." (Kirkus Reviews)
"Aim for the Skies is a story in aviation history that absolutely should be told, and it has been fortunate enough to be placed in the hands of two people who are able to balance metal and heart just precisely right so as to let the suspense of the race provide a propulsive force to the very human story they are telling, instead of smothering the characters beneath it. (Dale Debakcsy, Women You Should Know)