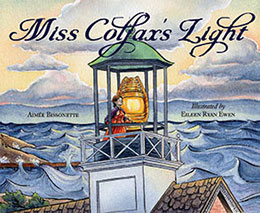 written by Aimée Bissonette
illustrated by Eileen Ryan Ewen
Sleeping Bear Press
ISBN 978-1-58536-955-3
In 1861, at the age of 37, Harriet Colfax took on the job of lighthouse keeper for the Michigan City lighthouse, situated off Lake Michigan. It was a bold and determined endeavor, especially since there were very few female lighthouse keepers in the country at that time. And more than a few people doubted she was up to the laborious, demanding job. But Harriet was determined to succeed and prove any naysayers wrong.
For 43 years, until the age of 80, Harriet kept her light burning, through storms, harsh winters, and changes in technology. This true story focuses on Harriet's commitment and determination to fulfilling her charge and living life on her own terms.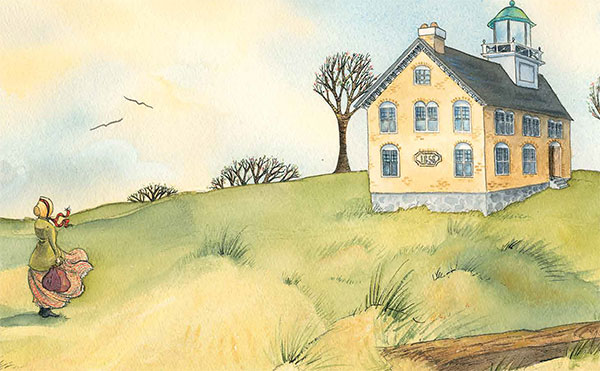 Eileen Ryan Ewen was born into a family of artists, dreamers, and storytellers who fostered her love of telling a story through pictures. She earned a BFA in Painting from Miami University (Ohio) and an MFA in Creative Writing from the University of Missouri-St. Louis. Learn more about Eileen.
American Library Association Amelia Bloomer List
International Literacy Association Primary Nonfiction Award 2017
Creative Classroom Project
Educator Kaleen Tison Povis wrote: For this school year, when the book Miss Colfax's Light caught my eye, I planned the next project. This year, since we started to integrate the arts into our classrooms, your book with illustrations by Eileen Ryan Ewen, was the seed for my students' digital arts project. Each student claimed a page or spread and worked to animate the still images. We went through cycles of inspiration, skill building, peer feedback, and revision before we showcased the work at our parent night. Every time I showed the final project of the students' animation work streamed together, I'd joke that I hoped you as a copyright lawyer were okay with it!"
"Bissonette dramatizes Harriet's story with events the keeper had noted in her journal and with reiterations of her determination ("I can do this."). … this is an appealing profile of a remarkable woman and a nice reminder that the Great Lakes have dangerous coasts as well." (School Library Journal)