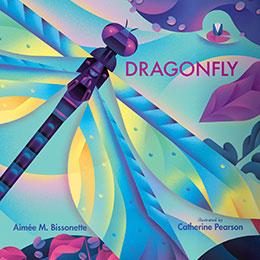 written by Aimée Bissonette
illustrated by Catherine Pearson
Imagine This! series
Albert Whitman & Co., September 2020
ISBN 978-0807558218
We can fly straight up or down, backwards or forwards, stop and hover, make hairpin turns—at top speed or in slow motion. And we've been on Earth for around 300 million years. Strong graphic art and rhythmic text packed with interesting facts to capture imaginations.
"This vividly illustrated science picture book is full of fascinating facts about dragonflies. Sometimes referred to as naiads, these creatures have been on earth for 300 million years. At one point, their wingspan measured more than two feet across. Today, dragonflies are much smaller; their wingspans range from half an inch to seven and a half inches. The insects begin life in ponds and streams, fighting to survive. As they grow, dragonflies molt (split their skins) up to 17 times before they are ready to emerge from the water and begin their journey on land. Pearson's illustrations will engage young readers, and Bissonette's informative text will encourage them to learn more. The story is set in a larger font with additional facts placed in the corners, allowing readers to linger over the pages. End pages include an author's note and a list of resources to guide further exploration. VERDICT An excellent resource for students." (School Library Journal)
"The art on the initial double-page spread–indeed on all—is dramatic and eye-catching. This one shows a large dragonfly whose golden-and-blue body stretches across the gutter, with a background of green and blue foliage against pink-hued panels. Large, bold text declares: "We've been here three hundred million years. We are small now, but back then our wings spread more than 2 feet across. And we ruled the sky." As with all ensuing spreads but the last, this first-person text … is followed by text in a smaller font, more informative and sophisticated, and related in the third person. The dragonflies' commentary, along with bold imagery, will keep younger naturalists from squirming; reading the additional text is recommended for ages 6 and older." (Kirkus Reviews)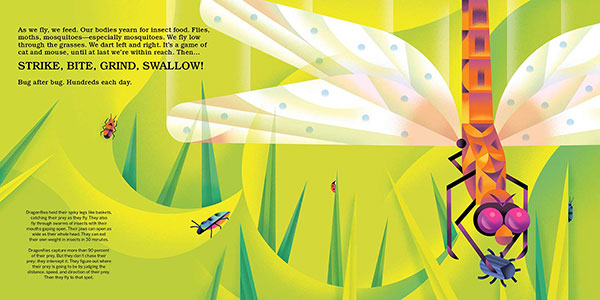 Catherine Pearson is a Swiss illustrator based in the hills of Lausanne, Switzerland. With a European Bachelor in illustration, Catherine through her career and experiences has refined a unique and playful style. She is passionate about bringing clients ideas to life and believes illustration can bring you where words cannot. Follow Catherine on Instagram.