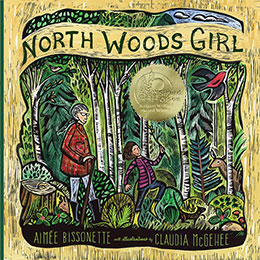 written by Aimée Bissonette
illustrated by Claudia McGehee
Minnesota Historical Society Press
ISBN 978-0-873511-966-3
"When Grandma tucks her pants into her oversized boots and grabs her walking stick, I run to catch up," reports a young girl charmed by her visits to Grandma's north woods home. Their walks take them through the seasons, to a pond with a downed tree just right for sitting, to a garden lush with tomatoes ready for canning, through a snowy nighttime woods where the only sounds are the squeak of boots on snow and the hooting of a distant owl. Whatever the month, there are plenty of woodland critters to observe: squirrels or rabbits or deer, geese or goldeneyes or mergansers. The forest of North Woods Girl is an active, populated place, brought to life by Claudia McGehee's colorful scratch board artistry.
Time with Grandma teaches about quiet observation, generous sharing of resources, the beauty of the forest and pond at any hour. Grandma is the quintessential north woods girl, breathing deep the piney scents, relishing the chirping activity of her animal neighbors. Small wonder that her admiring granddaughter is inspired to follow in her footsteps. With a tale as understated as Grandma herself, Aimée Bissonette shares a message of appreciating the treasures of our natural surroundings.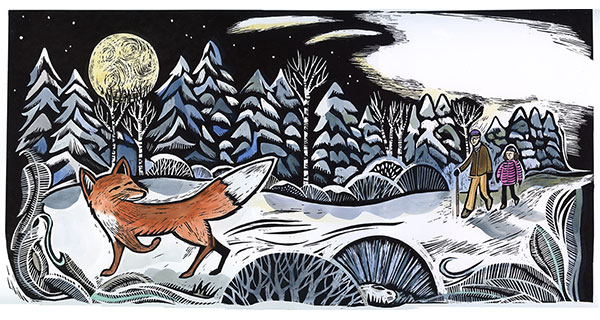 Claudia McGehee is an illustrator-author living in a tallgrass prairie state. Her creative inspiration comes directly from nature, especially the regional prairies and woodland around her, and the Pacific Northwest, where she grew up. Claudia pairs her main illustration medium, scratchboard, with vivid watercolor to create earthy, wood-cut like images. Learn more about Claudia.
Friends of American Writers Award
Midwest Bookseller's Choice Award Winner 2016
Sigurd Olson Nature Writing Award
"The scratchboard and watercolor artwork enhances the beauty of this heartwarming story about the love this little girl has for nature and her grandmother. The scenes are cozy because of how the starry skies, the wildlife, and the abundance of trees surround the main characters on every page. This is a powerful intergenerational story about how a grandmother came to be a role model for her granddaughter." (School Library Journal, starred review)
"[T]he narrator's heartfelt observations of the seasons and admiration of her grandma ring with authenticity. McGehee's scratchboard, watercolor, and dye illustrations are executed with just the right primitive note and add significant appeal to the overall story with their excellent design and expert color sense. A celebration of both family and nature with exemplary illustrations." (Kirkus Reviews)
"A girl sings the praises of her grandmother in Bissonette's children's book debut, illustrated by McGehee (My Wilderness: An Alaskan Adventure) in sturdy scratchboard images that underscore the ruggedness of both Grandma and the landscape she loves. Throughout the seasons, the girl and her grandmother, who describes herself as "not a good-looking woman" and wears her late husband's flannel shirts, enjoy what the woods have to offer. In the spring, that means studying migrating birds (a circular close-up of ducks in a pond lets readers feel like they are peering through binoculars alongside these two "north woods girls"). And in winter, the season they like "best of all," they take a midnight stroll across a snow-covered field. Tinted with dyes and watercolors, McGehee's illustrations have the static grace of stained glass, and girl and grandmother take on an almost saintly appearance as they gaze up at a winter moon. It's a book that celebrates life's simple, quiet pleasures—from canning summer vegetables to savoring the smell of pine—as well as the importance of sharing them with like-minded souls of any age." (Publishers Weekly)
"Over the course of this lovely book, a young girl pays seasonal visits to her grandma, a feisty, sweet and unconventional North Woods dweller. Thanks to Aimée Bissonette's engaging narrative and Claudia McGehee's dense, gorgeous scratchboard renderings of the natural world, we're immersed in their wanderings and explorations in a way completely captivating. Another fine effort from the Minnesota Historical Society Press, where they've mastered the art of putting authors and illustrators together with great success." (Minneapolis Star Tribune)
"One of the prettiest and well-written books of the season is narrated by a girl who admires her grandmother for not looking like other grandmas: "She's bony. And she dresses in Grandpa's old flannel shirts." But Grandma knows the woods behind her house and where to observe animals and ducks. In winter, the girl and Grandma walk the nighttime snowy woods. In summer, they plant a big garden. … This charming story of intergenerational love and appreciation of our natural surroundings is brought to life by McGehee's richly colored scratchboard drawings." (Mary Ann Grossmann, Pioneer Press)