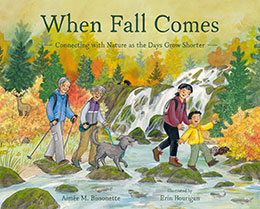 Connecting with Nature as the Days Grow Shorter
written by Aimée Bissonette
illustrated by Erin Hourigan
Little Bigfoot / Sasquatch Books, September 5, 2023
ISBN 978-1-63217-273-0
When Fall Comes
 celebrates seasonal change as animals and families begin to prepare for the winter months ahead. 
When fall comes,
and great gaggles of Canada geese honk and flap overhead,
and the aspen leaves change from green to gold,
chilly air and shorter days remind us,
it's time to get busy.
Change is coming and there is so much to do.
Not just for us, but for the animals too.
This next book in the When Seasons Come series captures the joy of being outdoors during the fall months.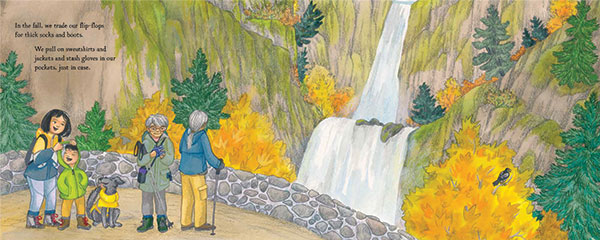 Erin Hourigan is an author/illustrator in Portland, Oregon. She grew up in Southern California playing in the waves and dreaming up stories everywhere she went. She studied illustration at Cal State Fullerton before moving to Oregon, where she has learned to trade the waves for pine trees and rivers. She loves to travel and whether she's out on a hike, or people watching in a coffee shop, you will almost always find her with a sketchpad and pencil in hand. Learn more about Erin.