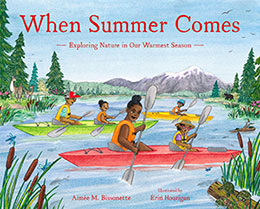 Exploring Nature in Our Warmest Season
written by Aimée Bissonette
illustrated by Erin Hourigan
Little Bigfoot / Sasquatch Books, April 2023
ISBN 978-1-63217-273-0
Summer is the perfect season for families to embrace the outdoors.  
When Summer Comes
celebrates playing and exploring in the wilderness during the summer months.
When summer comes,
and the sky soars blue above us,
and the days stretch long and warm before us,
some people head to ball games and outdoor markets.
Instead we gather our gear.
Binoculars.
Hiking poles.
Backpacks.
Butterfly nets.
Shovels and buckets for trips to the shore.
Summer's the season when we explore.
This follow-up to
When Winter Comes
 is about the joy of being outdoors and discovering wildlife during the summer months.

Erin Hourigan is an author/illustrator in Portland, Oregon. She grew up in Southern California playing in the waves and dreaming up stories everywhere she went. She studied illustration at Cal State Fullerton before moving to Oregon, where she has learned to trade the waves for pine trees and rivers. She loves to travel and whether she's out on a hike, or people watching in a coffee shop, you will almost always find her with a sketchpad and pencil in hand. Learn more about Erin.
"This adventurous Black family takes full advantage of the nice weather to explore the Pacific Northwest. Together they picnic on hills overlooking the shore, fly kites, and go to ball games and outdoor markets. They take camping trips in the mountains, where they hike and see wildflowers and mountain goats, pikas, and marmots, or in the desert, stargazing and watching bats catch mosquitoes. They hike in the forest, spying woodpeckers, black bears, elk, and deer. They explore tidal pools on the coast, count turtles on logs as they kayak in lakes, and bike to a swimming hole. The upbeat verse speaks to the simple pleasures of nature ("Because summer's the season when we explore / the wild, bustling outdoor world") and will invite many readers to follow suit. Hourigan's appealing illustrations are full of natural colors and sights including urban green spaces like Seattle's Gas Works Park as well as more remote wild locales, and the species mentioned (except for the bugs) can be spied in the artwork. With so few books centering families of color enjoying the great outdoors, this example of characters whose summertime activities range from butterfly collecting to swimming is welcome indeed." (Kirkus Reviews)