written by Aimée Bissonette
illustrated by Nic Jones
Albert Whitman & Co., September 2021
ISBN 978-0-80757-281-8, ages 4 and up
Trees can live a very long time, but what happens when they die? This unusual book describes, in lyrical prose accompanied by colorful and graphic illustrations, that trees have a whole long second life, continuing to contribute to their habitat, the environment, and the cycle of life.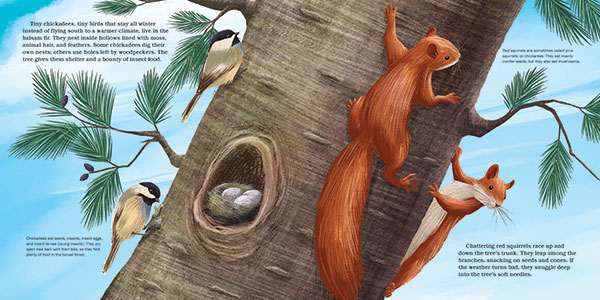 Nic Jones graduated from the University of Bolton with a first in Animation and Illustration. She often finds herself inspired by the intricacy and beauty of the natural world, and applies this to her illustration and design.
Learn more
about Nic.
"When a tree falls in a forest, it's likely no one will hear, and even more likely no one will be there to clean it up, and that is just fine because that tree still has a great deal to offer the forest. It will become a host to a large variety of other plants and animals, providing much that they will need to survive. The first third of the book introduces young readers to living trees and how they support forest creatures, but most of the book tells the story of their value after they have died. Insects will burrow into the bark and wood helping them to break down, and bigger creatures, from mice to bears, will eat those insects and build homes in the decomposing tree. Fungi will grow on the log, also helping with decomposition. And on it goes until the tree becomes soil and other trees grow from it.
"Aimée M. Bissonette has written a charming text filled with fascinating facts that will keep youngsters glued to this wonderful, educational book. The gorgeous illustrations by Nic Jones are filled with tantalizing details that perfectly complete this story. Don't miss this beautiful book." (San Francisco Book Review)